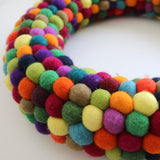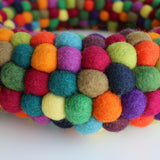 Fall Ball Wreath
$35.00 USD
This festive ball wreath includes a variety of bright fall colors. 
The wreath is made entirely of 2cm 100% wool felt balls - no styrofoam! The wreath can be viewed from either side.
It is available in two sizes 30 cm (approx. 13 inches) and 40 cm (approx. 16 inches). 
Each wreath is unique and the color and pattern will vary! 
This item is handmade in Nepal.