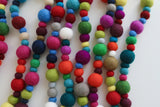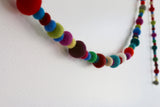 Fall Mutlicolor Garland
$22.00 USD
This festive garland includes fall colored felt balls in a variety of sizes. It's perfect for anything from Birthdays to Christmas trees! Use it to decorate your mantel, banister, doorway, playroom, etc!
The garland is approximately 9 feet long and the balls are fixed evenly on white string. Each 1 - 2cm ball is hand felted and 100% wool. Each garland is unique and will vary slightly in color! 

This item is handmade in Nepal.